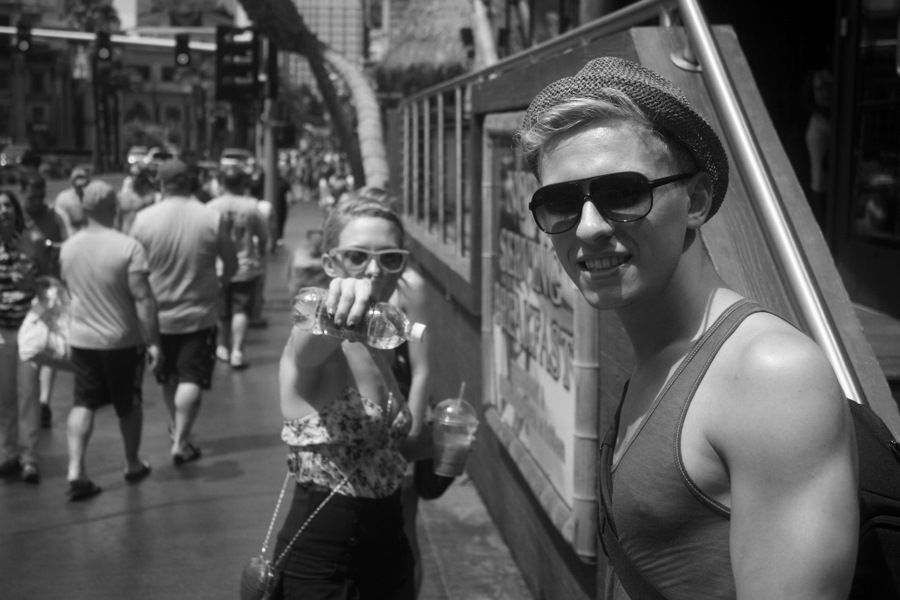 What He's Wearing
See through Tank: American Apparel, Shorts: DIY Cutoffs, Sandals: Havianas, Hat: Urban Outfitters
What They're Wearing
GORGY PORGY
The bleach must be sinking into my brain because I had several blonde "happenings" whilst on my 5 day vaca. Let's start with the worst, We're on the way to the airport when my bf passes me our itinerary for our trip back to Vancouver only to find out that I actually read our
ARRIVAL
time rather than DEPARTURE.
S-M-R-T
. - $500. Sweet.
On a brigher side, when at
Cirque Du Soleil's "Zumanity"
, The host/ess a.k.a. Drag Queen was walking throughout the front row, "Look at all these beautiful people here tonight!"
*Stops at my boyfriend and I*
... "I didn't know I had my own gay section?... Aww... Was Cher all sold out?" I guess we're that HOMOSEXUAL. Anyhow, if you haven't seen a Cirque show I really recommend you watch
Zumanity
because the guys were EXTREMELY hot with the best bodies I've ever laid my eyes on. Plus it's extremely sexual
AND
it made my vagina wet.
I didn't get the most amazing shots to capture the trip because I had another blonde moment and forgot to bring my tripod and proper lenses :( WAHHH.
PS. I didn't get any shots of myself, just my sexy man and a couple friends. My six pack is now a
single ab
and I'm looking to gain readers not lose them ;)